Sugar Ray Robinson. 1 of 5 Portraits in a Portfolio of 5 Portraits @ $1,200. 8 3/4" x 11 3/4". Archival Pigment Print on Hahnemuhle Etching Paper. Edition size of 20 + 3 A/P
Muhammad Ali said "That man was beautiful. Timing, speed, reflexes, rhythm, his body, everything was beautiful." He was "the king, the master, my idol."…and to me, still, I would say pound for pound …I'd say I'm the greatest Heavyweight of all time, but pound for pound, I still say Ray was the greatest of all time."
Close friend Joe Louis said of Ray "I saw him at his best…He was the best fighter that ever stepped into the ring."
Sugar Ray Robinson was the greatest "Pound For Pound Boxer" who ever lived.  A dazzling, once in a lifetime fighter, Ray possessed the greatest combination of power, grace and balance ever seen in the ring. Moving like a ballet dancer, to a tune that only he could hear, Ray had devastating power in both hands and knocked men out cold.  He hit like a wrecking ball and there was no escaping him in the ring.
Mr. Robinson & Mr. Martin. 35" x 46 3/4". Silk Screen Print. 500 GSM Somerset Radiant White. Edition size of 12 @ $1,950.
Ray was born Walker Smith Jr. on May 3, 1921 in The Black Bottom section of Detroit to Walker and Leila Smith. In 1932 his mother divorced his father and moved to Harlem with young Walker and  his two sisters. Leila found work as a seamstress but money was always tight. Needing to help his family and not caring much for school ,Walker jr. often cut class and took the train to Times Square where he tap danced for change thrown at his feet by theater goers.
When not dancing, young Walker would show up at George Gainfords Harlem gym pestering Gainford to train him. Gainford recalls "I told Smitty he was too young to fight. Besides he said his Mom would kill him if he got mixed up with the fight game. So I chased him away from the gym, back to delivering groceries and dancing for dimes. But he turned up again. I took him into my home, taught him a few tricks and let him stay around when I took my team round the clubs…I smacked him down more than once. Smitty deserved his breaks though.  In those days he had nothing."
Ray's amateur boxing debut, in 1936, was for the Salem Crescent Athletic Club. One of the club's fighters had quit the team and Gainford needed a replacement. Being 15 years old, Ray was underage and wouldn't be permitted to fight so Gainford pulled another fighters AAU card from his pocket, gave it to young Walker and said "that's you". He got the nickname "Sugar" after a reporter exclaimed that Ray was "as sweet as sugar." Thus Walker Smith jr. became Sugar Ray Robinson.
As an amateur Ray went undefeated in 85 fights winning the 1939 NY State Golden Gloves Title as a featherweight and the 1940 Title as a lightweight.
On September 19, 1940 Ray filed an application with the New York State Athletic Commission for a professional boxers license. He listed his previous occupation as "tap dancer."
As a pro Ray won his first 40 fights before losing to Jake LaMotta, on Feb. 26th, 1943.  Just three weeks later Ray avenged that loss by taking a10 round decision from Jake.  The two fought a total of 6 times with their last fight being televised to 30,000,000 people. LaMotta said "I fought Sugar Ray so many times I'm surprised that I'm not diabetic."
Later, in 1943, Ray received a call from Henry Armstrong, who was toward the end of his fabled career, in financial straits and asking for a fight. At first Ray refused saying " I could never fight you, Henry. You were my boyhood idol." Ray eventually gave in because "As much as I didn't want to fight Henry, if I didn't, I'd be costing him money…I had to fight him for his good." The fight was considered by many at ringside to be one of Ray's most artful performances as he handled his aging, but still dangerous opponent without humiliating him.
Columnist Jim Murray said " He was beautiful at what he did. He elevated the art. He brought grace, rhythm, style, even science to a cruel craft. It wasn't a fight, it wasn't a fight, it was a ballet. If  Nureyev were a fighter, he would do it this way"
Ray always entered  the ring like a movie star, every hair in place, his trunks and robe neatly pressed, smiling for all the world to see. Beneath that smile and Dandy appearance, however, Ray was relentless, ferocious and unforgiving. He knocked out 84 of the first 131 men he faced accumulating a remarkable record of 128 wins 1 loss and 2 draws.
Ray was the first boxer to have an entourage and when he and Mrs. Robinson sailed to Europe they brought along over 50 pieces of luggage, his Pink Cadillac, his manager, trainer, singing coach, drama teacher, barber, masseur, golf pro, driver and secretary. A French magazine called him "Paris's number 1 celebrity."
As tough a business man as he was a boxer, Ray always represented himself whether negotiating a fight purse or buying a building. At one time he owned  an entire block in Harlem, housing, The Golden Gloves Barber Shop, Sugar Ray's Quality Cleaners, Ray Robinson  Enterprises, Edna Mae's lingerie shop and his night club, Sugar Ray's.  Frank Sinatra, Jackie Gleason, Elizabeth Taylor, Joe DiMaggio, Lena Horne, Langston Hughes, Jackie Robinson and Miles Davis, whom he trained, all flocked to Sugar Ray's. Ray was as glamorous and dapper as they were and possessed the same aura and charisma that Ali and Elvis had. Cruising Harlem in his Pink Cadillac, wearing custom made suits, his hair always perfect, Ray drew an adoring  crowd wherever he went.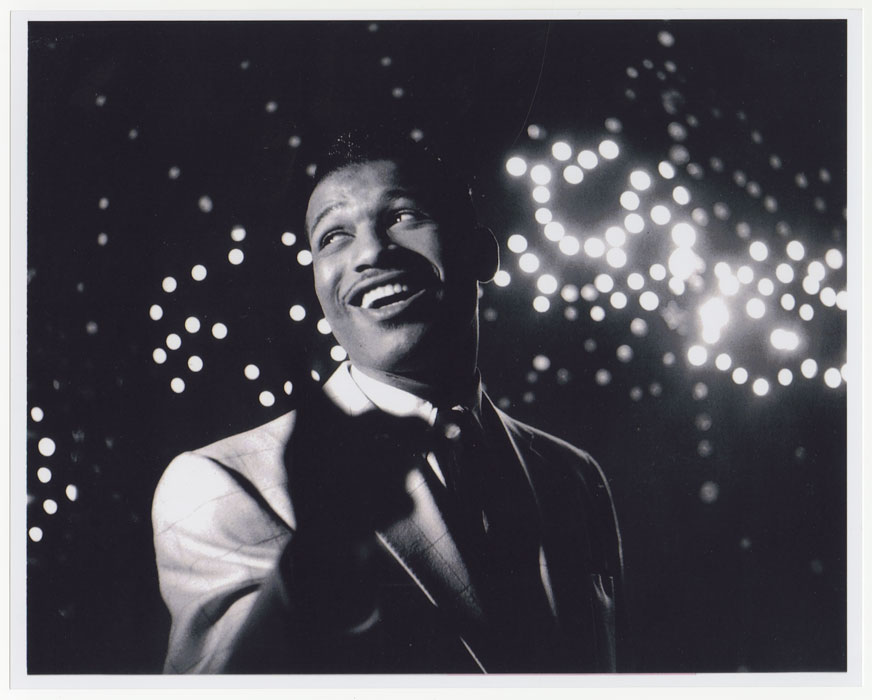 Sugar Ray Smiles 35" x 46 3/4". Silk Screen Print. 500 GSM Somerset Radiant White. Edition size of 11 @ $1,950.
Ray's 25 year boxing career lasted until a 10 round decision loss to Joey Archer on November 10, 1965. Ray said " You always say " I'll quit when I start to slide, and then one day you wake up and realize you've done slid…I wanted to quit on top, but you can't choose your endings."
Ray's professional record was 173 wins / 19 losses / 6 draws and 2 no contest. He had been The Welterweight Champion of the World, a 5 time Middleweight Champion and an international celebrity.
It seems that Ray's life had gone full circle from the time he listed his previous occupation as "tap dancer" to Ray's second act as a dancer, singer and actor. He appeared on television dancing with Dean Martin, joking with Jackie Gleason, and guest starring on Mission Impossible, Fantasy Island and The Mod Squad".  Close friend Frank Sinatra promoted Ray's acting career by giving him a part in the movie "The Detective", and Ray toured with The Count Basie Orchestra. Unfortunately the reviews were mostly mediocre, opportunities disappeared  and his career sputtered and faded to nothing.
With the Robinson's nearly broke, Ray and Millie moved to Los Angeles where Millie took a job as a receptionist. Their flamboyant lifestyle gone and the Pink Cadillac replaced by a Red Pinto, Ray said "I knew Millie loved me because there wasn't anything else for her to  love…Only me was left."
Ray was diagnosed with Alzheimers disease in 1984. Sadly Sugar Ray Robinson,  "The Greatest Pound For Pound Boxer" who ever lived passed away at 67, not knowing who he was or what he had accomplished.
Hall of Fame trainer, Emmanuel Steward, reflecting on Ray's career said "The top 3 fighters of all time are Sugar Ray Robinson, Sugar Ray Robinson and Sugar Ray Robinson."
Rest in peace Ray.

Ray/Gainsford/Louis 12" x 18 3/4". Archival Pigment Prints. 210 GSM Premium Matte paper. Unique prints. Edition size of 11 @ $675.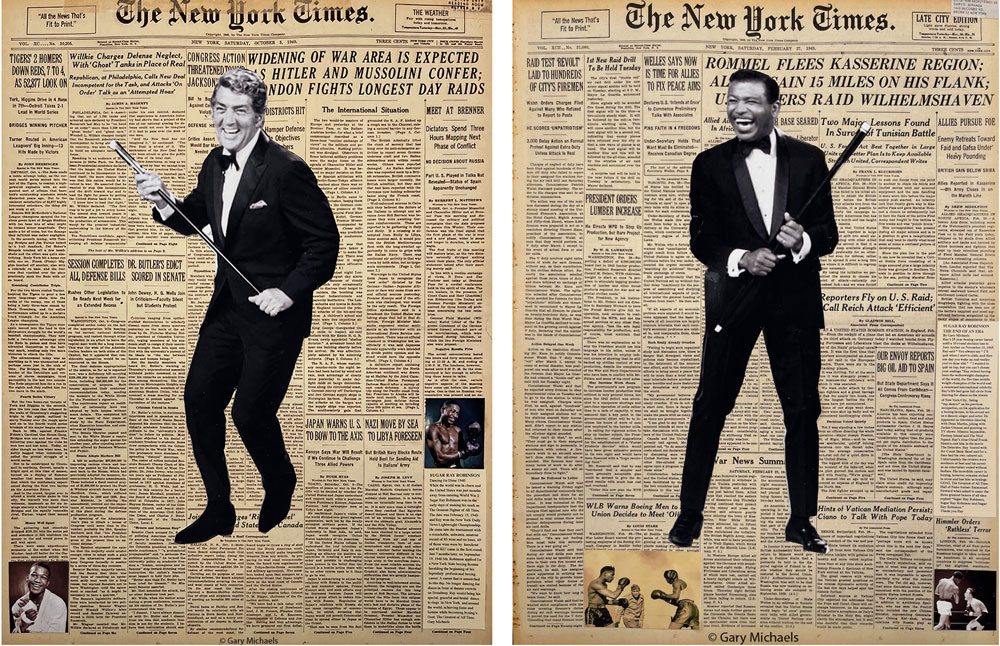 Ray & Dean 12" x 18 3/4". Archival Pigment Prints. 210 GSM Premium Matte paper. Unique prints. Edition size of 11 @ $675.

Ray/Young Ray/Ray & Joe 12" x 18 3/4". Archival Pigment Prints. 210 GSM Premium Matte paper. Unique prints. Edition size of 11 @ $675.